Pyser-SGI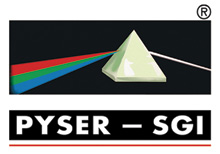 Overview
We are a long established independent company dedicated to the manufacture and global distribution of high quality, high performance, optical, electro-optical and related products and services for a wide range of commercial, industrial, defence and consumer uses.
Our headquarters is based in the South East of England, and comprises two world class operating divisions, each trading in different market sectors. Every division trades as a stand-alone business backed by the financial resources of the group as a whole, our three manufacturing sites and by the suppliers of the resale products we select.
Customer care and satisfaction is of paramount importance to us. This we achieve by virtue of technological leadership, quality of technical assistance and total commitment to after sales service.
All areas of our operations are fully accredited to ISO 9001:2008 quality assurance standards.
Pyser-SGI Limited Trading Divisions
The company comprises five trading divisions, which are active in the following business sectors:
Broadcast & CCTV Lenses
Resale and manufactured equipment for CCTV and broadcast TV and film production uses.
Fujinon: CCTV lenses and TV lenses for HDTV, broadcast, professional video and teleconference.
Porta-Brace: Cases for professional broadcast production equipment.
Defence & Security
Markets specialist, own manufactured products, suppliers to NATO and non NATO Armed Forces, Special Forces and peace keeping sectors throughout the world.
Pyser-SGI: Small arms collimators, military binoculars, prismatic compasses, PROMS portable rapid-deployment observation and monitoring systems for long distance day and night surveillance. DANOS day and night observation system with image fusion and a range of portable night vision products as well as thermal imaging cameras including covert Vertigo. Sold to global markets.
Fujinon: Stabilised binoculars
Graticules
Specialist manufacturer of precision micro-imaged components including reticles, gratings, targets, resolution charts, precision apertures and TEM grids. Massive catalogue of standard components and proven supply of custom-made products to suit specific applications.
Pyser-SGI Limited has over 50 years experience of applying chrome deposition, photographic and etch and fill images onto glass and film substrates, and the ability to create precision electroformed and etched foil components. We also have the ability to manufacture small optical assemblies such as cemented doublets and aperture holders.
Microscopes and Inspection
Quality microscopes and inspection products for education, research and industry around the world.
Pyser-SGI: Compound, stereo, inverted and video microscopes. Inspecta range of magnifiers, portable microscopes, measuring systems and inspection systems.
Technical Support and After Sales Service
Our service and technical departments provide first class support for customers who may require information or need to have their products serviced or repaired.
We service all of the products that the company sells.
For resale products, our technicians receive factory training and use proprietary spare parts from our suppliers to ensure our customers are professionally served.
As with all aspects of the companys business, our service facilities are fully accredited to ISO 9001:2008 quality standards.
Marketing
Our marketing department is fully equipped to deal with the marketing function, utilising up to date computer technology and software. The department is responsible for the web site, placement of advertising, design, press relations and exhibition bookings for all divisions within the Pyser-SGI Limited group.
We strive to gain the maximum benefit from our advertising and press activities, with the assistance of our suppliers for resale products.
The Future
Pyser-SGI Limited has enjoyed a consistently strong growth record and it is planned for further product lines to be added to complement our existing ranges. This will build upon our own manufactured product lines, as well as complementing our resale ranges. The company is poised to further develop the businesses within the group by organic growth, as well as by acquisition